The complete ABW Program is not available at this time; however, most individual courses are available. Please contact the Institute for more information.
This 300 hour certificate program is a natural progression from CMT and a precursor to CBW. The Advanced BodyWorker program will broaden your skills to enable you to respond effectively to a wider variety of client needs. In addition to achieving a higher level of professionalism, this next step in your development increases your ability to understand the relationship between knowledge, caring, conscious touch and living systems.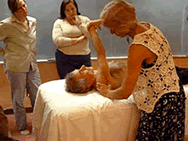 "After my CMT was finished, I knew that I had learned a lot, but it had just wetted my appetite for more. Recently I have been finishing the final requirements the CBW program and I look forward to taking more continuing education classes. The learning environment here is very contagious and you want to keep learning – and there is so much to learn from each of the different teachers, assistants and fellow students. In my practice I often hear the compliment "I've never had such a great massage", and I owe it all to the Institute.""
-Amber Guaraglia